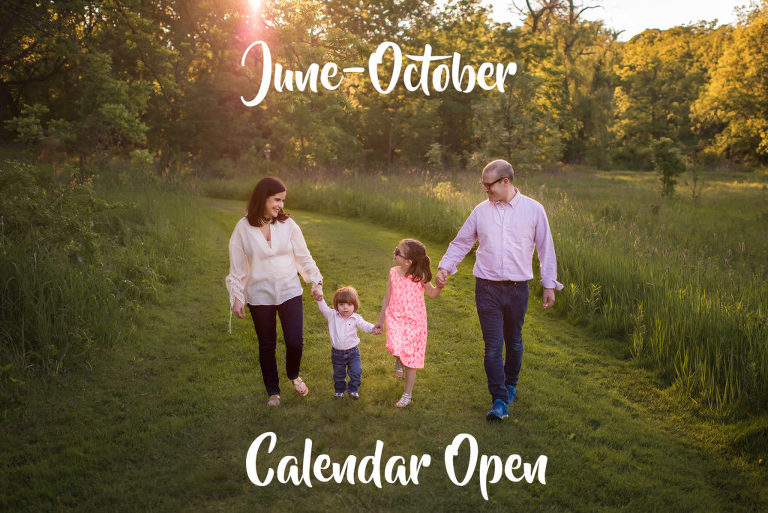 It's that time of year, again…the July-October calendar frenzy!  If you're currently seeing this its because you have a special invite to book early before the public.  Good for you!  These dates are for outdoor family sessions and are sure to go quickly.  Sessions start roughly 60 minutes before sunset but the official start time will be determined closer to your session as it also depends on your session's location.
For newborns, please book with me ASAP as I book 4-6 months in advance.  For other indoor/studio sessions, please contact me as these outdoor dates don't apply and my calendar is now open!
Session options:
•Full session – Roughly 60 minutes, 20-30 final images and location will be chosen together.  Digital-only $600.  Products + digitals start at $800.  You come back to view your images and place you order roughly 2 weeks after your session.
•Mini session – 20-30 minutes, 10 images included with the option to purchase additional files or products.  I will determine the location since I book minis back to back.  $350.
To book, email me your top 3 dates you would like as well as if you're wanting a full or mini session. The official start time and location will be determined later.
July 6, 14, 19, 26, 28
(7:30pm-ish start)
August 2, 16, 18, 23, 25, 30
(7pm-ish start)
September 2, 4, 6, 13, 15, 20, 22, 23, 27, 29
(6pm-ish start)
October 4, 8, 9, 11, 18, 20, 21, 25, 27, 28
(5pm-ish start)
 I will respond within 48 hours with your finalized date and a link for booking.  Your retainer and contract must be paid within 24 hours of being sent or your date will be released to the next in line.
This list will be sent to my full email list on June 27th and posted on my Facebook page June 30th, so for best selection be sure to get your top 3 dates in before then.  I cannot wait to see all of you this summer and fall!  If you're needing a November or December date, please email me to arrange a date. stacy@golden-photography.net